---
9 tips for your bot from Einstein, Armstrong, Gandhi and other bot experts

---
1. Don't build a bot just because it's a sexy trend
We have decided to build Visabot because we genuinely believed a chat bot is a perfect solution to a today's problem: to get a visa to the U.S., you have to become an immigration expert for your specific case because even if you pay someone for visa services, you need to understand in detail what comes after what and learn other details that do not let you feel at ease.
Here are some common questions you need to answer if you decide to move to the U.S.:
"What are my chances of getting visa to the U.S.?"
"Do I need a visa to the US?"
"What steps should I take to get a visa?"
"How long can I stay in the U.S.?"
and many more…
You don't want to spend hours on beautifully designed immihelp.com or USCIS official website.
First thing people do is send a message to their friend who has already got a visa asking for advice. But what if you don't have one? Or your friend is not quite competent to help you?
We've realized that a chat bot is exactly the type of solution people treat as a friend. So we've built an educated friend designed to help immigrants 24/7. Some simple examples showing that a bot is good in our industry:
Answers are instant.
No more research on web-sites. Just ask your questions.
Staying in touch: appointments with the government agencies are very important if you want your visa. Visabot will remind you of the appointment.

---
2. Buttons?
We started with a 'type-in-your-answer' vision and… failed because people not always know what to say.
"What can you do? Hello!"
"Hey! are you a human?"
"Bring me a pizza"
They're pretty good at asking random questions though. So we moved to a different chat bot logic: short starting menu with the options followed by questions with the 'hit-the-button' answers. Users can still write a message and we always add new words and phrases to our dictionary for better UX.
---
3. Discovery
Yes, we all know finding a bot is a problem. So try to be as much visible as you can. What helped us get 15,000 users in 30 days?
First of all be sure you are on the BotList.
Make it sharable (add a share button in your bot).
Go to Product Hunt (obviously).
Publish your website (or landing page) on Awwwards.com (we got 3k users this way).
Be active in Bot groups on Facebook and Slack.
Be active in your segment community (for us — immigrations forums).
---
4. Community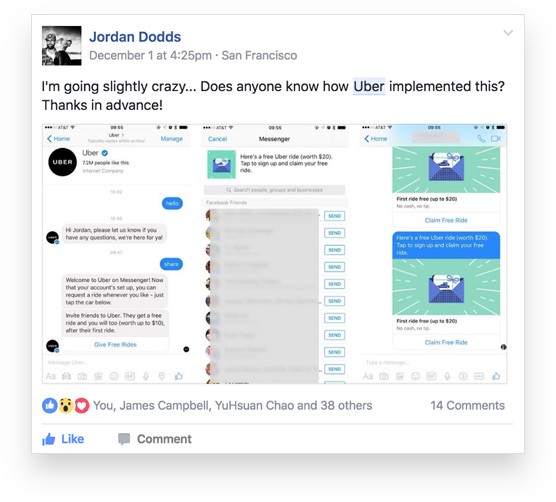 We've found lots of ideas and instruments and help in this bot group.

---
5. Improve
Improve your bot on daily basis and add all new questions to your dictionary. I know it's obvious but. Just do it

---
6. RIP support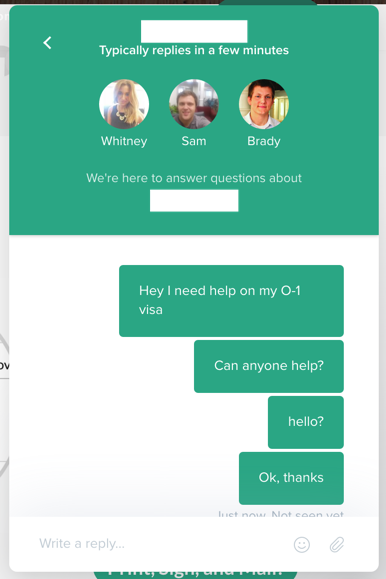 Bot is always awake. Use it as your competitive advantage!

---
7. People love bots
If your bot can make something useful, you will have people sharing this. We are always ask to send a picture after they receive the visa.

---
7. Suggesting features
People love to have their say. We encourage users to suggest new features for Visabot. We get over 500 suggestions that help us decide for next release.

---
8. Statistics
Track your users every day. The best tool we've found is Dashbot.io.

---
Case study of Visabot, a chat bot for Facebook Messenger that helps foreigners get U.S. visas.
Visabot Facts
Launched November 2016.
15,000 users to date.
10 visas received through the bot.
Nominated '2016 Bot of the Year' by Product Hunt.
---
Check out Visabot in Product Hunt nomination for Bot of the Year. Share your comments and support us if you like it!
#FromVisaBotWithLove